InGoodStandings.com
Administrators Guide to League Sponsorships and Advertising
InGoodStandings (InGS) offers a simple, yet powerful mechanism for organizations to raise revenues and facilitate communications amongst their participants and families.
To make money for your league all you need to do is sell advertising space to your sponsors on your web page the same way you would sell space in your league directory, program or newsletter.  InGS then makes it a simple process for you to create text ads in minutes or upload graphic ads to be included with your league's Standings web pages.  You can include ad space in other packages for additional cost.  You can offer your local merchants a way to get their weekly/monthly specials out to the community.  Local organizations could pay you to use your advertising space to tell all of upcoming events (pancake breakfast, open house, etc.). These ads are very low cost to produce, very high in profit and you already have them in stock! You might even choose to offer some of these services as a community service.
We give you the opportunity sell sponsorships and ads on your League Standings Web Pages. You sell ads to your sponsors and in turn pay a small fee to InGS to host those sponsor's messages and ads on your standings pages.  The InGS Advertising Module gives you all the tools you need to maintain text and graphic sponsor ads on your league pages.  It's a simple and easy way to communicate AND generate some revenue for your organization too.
An Ad is placed online by first purchasing an Ad-Slot in one of the available Ad-Zones.  Your sponsor's ad is then moved into that ad-slot and then becomes visible to all.  There are several Ad-Zones within the InGS web pages for your league. 
<![if !vml]>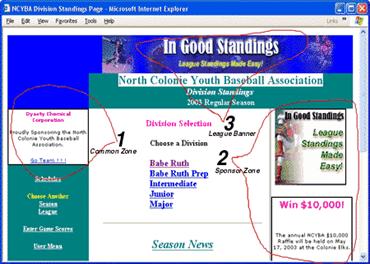 <![endif]>
<![if !supportLists]>1) <![endif]>Announcement Zone
Ads placed in this zone are seen on all of your league's pages at all levels.  Each time a user clicks to another page, the next Announcement-Zone ad is shown
<![if !supportLists]>2) <![endif]>Sponsors Zone (3 levels)
These ads show on the right side of most standings pages.  All ads will be shown at the appropriate levels by stacking them up as shown in this example. There are three Sponsor-Zone levels:  Season, Division and Team.  Ads placed in division and season zones can carry-down into the zone(s) below.
<![if !supportLists]>3) <![endif]>League Banner
The League Banner appears on nearly all InGoodStandings pages.  Although it normally displays the InGS logo, your league can choose to place their own logo on all their pages (there is a cost for this option).
See the next page for some example sponsorship implementations
Here are some of the ways your organization might choose to implement sponsorships.
Remember, you choose which level each ad is to be placed into.  Ads placed at the Season-level are seen on all division and all team pages below it.  Ads placed in the Division-level are seen on that division's pages and on all team pages under that division.  Ads placed at the Team-level are seen only on that team's pages.  You control which ads get carried down.
<![if !supportLists]>· <![endif]>Seasonal Sponsorships   (Click for more info)
<![if !supportLists]>o <![endif]>Offer your sponsors the opportunity to advertise on your league standings web pages for a fixed seasonal cost. This is the most standard type of sponsorship offered by most organizations.
<![if !supportLists]>o <![endif]>You get to choose which levels to offer your sponsors and what price they will pay.  You might choose to solicit only a few sponsors and place them in the sponsor-zone at the season level where it will be seen in all subsequent division and team pages.  Or you might choose to offer ads at the division level and/or team level, giving you the opportunity to reasonably place many more ads online.
<![if !supportLists]>· <![endif]>Team Sponsorship & Logo Display
<![if !supportLists]>o <![endif]>Offer your team sponsors the opportunity to place their logo or an advertisement on the Team Page of the team they are sponsoring.  They can also purchase a text ad and show the words of their choice on their team's page.  You can also offer to change their text message as needed during the course of the season.
<![if !supportLists]>o <![endif]>The low cost of placing an ad at the team-level makes this a simple yet potentially profitable offering.
<![if !supportLists]>· <![endif]>Weekly/Periodical Specials for Local Businesses
<![if !supportLists]>o <![endif]>Offer local businesses an opportunity to advertise their weekly/periodical specials.  Due the frequent return rate of your constituents to your schedule and standings pages, InGS is an ideal place for local businesses to "get their attention" with specials.
<![if !supportLists]>o <![endif]>This is ideal for community event notifications such as "pancake breakfast", "casino night", weekly market specials, etc.
<![if !supportLists]>o <![endif]>You would purchase one or more text ads from InGS and rotate the specials into them as necessary.  Remember, you can change the text of your ads at no additional cost, so the more ads you place in this manner, the more profit you are making 
<![if !supportLists]>o <![endif]>This type of ad would most commonly be placed in the "announcement zone" or the season-level "sponsor's zone" where they will be seen on all pages.
<![if !supportLists]>· <![endif]>League Message Board
<![if !supportLists]>o <![endif]>Your league can display important dates and events where all will see them.  You can display special recognition awards, meeting notices, etc.
<![if !supportLists]>o <![endif]>Purchase one text ad-slot and change it as often as you like with messages-of-the-day
<![if !supportLists]>· <![endif]>Text Support Messages from Constituents
<![if !supportLists]>o <![endif]>Allow your constituents and sponsors to "sign up" for a text messages addressed to their favorite teams or divisions.  Kudos and congratulations is a common theme.
<![if !supportLists]>o <![endif]>This can be a simple and fun way to raise revenues for your league.
<![if !supportLists]>o <![endif]>The messages can be put online for a specified period (e.g. one week).  One text ad-slot can be used in this way for many messages.